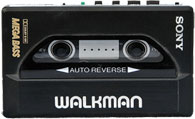 Sony has stop manufacturing and distribution it's another dignified technology which is the portable and first low-cost music player called "The Cassette Walkman".According to...
Apple's iPad has been taken down by malware within a few weeks of it being in the shops. Security software firm BitDefender posted a...
Adobe issued a fix on Tuesday for a critical infirmity in its Adobe Download Manager program that could be used by an attacker to...
An Apple iSlate vs Google Tablet battle might be about to start. Smarthouse, an Australian publication, reports that HTC is working in collaboration with...