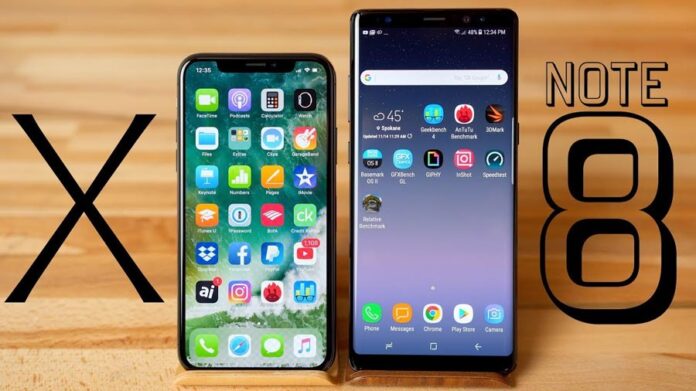 iPhone X better than Samsung Galaxy Note 8
When we talk about the best flagship  in 2018, two names come to our mind which are iPhone X and Samsung Galaxy Note 8. These two mobile phones have a supreme rivalry in 2018, and when it comes to design, features, and specs, iPhone X leads the Galaxy Note 8 by a fair margin.
You may be interested in "Best Vlogging Cameras Guide."
Yeah, you heard it right, iPhone X is far better than Samsung Galaxy Note 8 in many aspects. Either it is the camera or ultra high processor, iPhone X leads the way by far better margin. So, we will discuss today what makes iPhone X better than the Samsung Galaxy Note 8 in a brief but informative way.
Without further ado, lets jump right into it.
1) Dual Speakers:
Admit or not, Apple iPhone X has got an edge over Samsung Galaxy Note 8 in audio quality. Featuring dual speakers, iPhone X provides better and clean audio without any noise because of its dual speakers that are present at the top and bottom of the mobile. The speakers offer a stereo sound which is also louder as compared to Note 8.
2) Two-Tone LED Flash:
The iPhone X features two LED's flash which is present with the primary camera that allows you to capture every single detail of the photo or video. The LED in iPhone X is brighter than that of Note 8. The two-tone LED flash feature in iPhone X is quite advanced, and you can take a more colorful photo in dark environment with full details.
3) 3D Touch:
The screen of iPhone X gives a 3D touch. Either you want to open different apps, or enjoy gaming, the screen allows you to have a natural touch on different apps which is quite notable. Quite frankly, Samsung Galaxy Note 8 has not adopted this technology yet, and thus iPhone X beats it in this regard.
4) Slow Motion:
When it comes to back and forth photo shooting, Samsung Galaxy Note 8 and iPhone X are almost same, but slow-motion video recording is the feature where iPhone X has the edge over Galaxy Note 8. iPhone X can shoot different videos at 4K resolution providing solid 60 frames per seconds. This allows the iPhone X to get 240 fps at almost 10adp which is far better than that of Galaxy Note 8.
5) More Apps:
When it comes to developing apps, more developers choose to design apps based on an iOS system. So, the new apps mostly come on an iOS system as compared to that of Android OS. The new app updates and features also come to the iOs system quickly than that of android system.  Providing more apps, this is an entirely remarkable feature which makes iPhone X better than the Samsung Galaxy Note 8.
So, these were few features which make iPhone X better than that of Samsung Galaxy Note 8. Although, many people consider Note 8 as a better choice as compared to iPhone X. But after reading this article, they may want to reconsider their opinion about iPhone X. So, go for iPhone X if you want a super fast flagship smartphone with updated features, better design, and ultra high specs.