Samsung on Thursday unveiled its newest flagship smartphone, the Galaxy S IV to the world at an event in New York at Radio City Music Hall.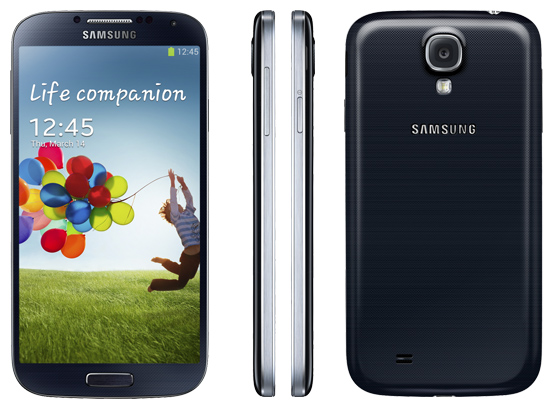 Under the Hood
The device in overall look is almost identical to its predecessor, a slightly slimmer body, with a slightly bigger 5-inch screen encased in a durable polycarbonate shell that comes in two choices: Black Mist and White Frost.
The device will dispatch with either a 1.9 GHz Quad-Core or a 1.6 Octa-Core Processor, based upon your region together with 2GB of RAM and an updated 1080p Super AMOLED screen.
The 5″ Super AMOLED screen, gives the Galaxy S IV an exciting 441 pixels per inch (PPI) resolution; a full 115ppi more than Apple's iPhone 5.
The Galaxy S IV runs the current version of Google's mobile OS (Android Jelly Bean 4.2.2) and available in 16, 32 or 64 GB configrations and also features a microSD card port.
It has all the standard wireless connections, including Wi-Fi, Bluetooth 4.0 LE, GPS and NFC. The Galaxy S IV is prepared with an Infrared port like the Galaxy Note 8.1, and can be used as a remote control.
[richvideo width="600″ height="335″ url="http://www.youtube.com/watch?v=2LHv1FPd1Ec" uniqueid="2LHv1FPd1EcPreview" title='Samsung Galaxy S IV' detail='Samsung on Thursday unveiled its newest flagship smartphone, the Galaxy S IV to the world at an event in New York at Radio City Music Hall.']
Camera
Samsung put a lot of concentration on the cameras inside the smartphone. Moreover to the 13-megapixel rear-facing camera, the device also offers a 2-megapixel front-face camera.
What's unique is that you can use these two cameras together to record video or take photos.
You can select how the second camera will display on the main camera screen – either in true side-by-side or in an overlay style. It also allows you to make video calls while revealing what they are viewing without swapping the camera positions.
Moreover to the Dual Camera function, Samsung has added the standard camera software. Using hints from the Galaxy S Camera, the Galaxy S IV has a various capturing methods for various types of shots.
The camera also features a few unique features, including a function known as Drama Shot that lets you to create Cinema graphic photographs that are saved as GIFs.
Other Features
Samsung has also added some additional features to the Galaxy S IV from its Galaxy Note line.
Air View is a new feature that allows users to hover their finger over content in specific apps, like flipboard, and see a quick sneak peek of the content before switching screens.
Smart Scroll is a feature that allows users to scroll through websites by tilting your smartphone and you can control the screen with your eyes using Smart Pause. If you're viewing a movie and place your phone down to grab a snack, video will stop playing until you come back and look at the screen again.
Lastly, S Translate allows you to translate your E-mail messages or text messages into nine different languages. The feature can translate from both text-to-speech and speech-to-text.
The new Galaxy S IV smartphone will be available on T-Mobile, Sprint, Verizon, U.S. Cellular, AT&T, and Cricket in the U.S. in the Second Quater of 2013.