Apple on Tuesday unveiled a smaller iPad, the iPad mini, at an event in San Jose, California.
The new device, which is 7.2mm thick 'as thick as a pencil' and weighs 0.68lbs, is 23% thinner than the 10-inch iPad.
The 8-inch screen with 4:3 aspect ratio compete directly with similar sized tablets from Google and Amazon.
The iPad Mini features a Dual core A5 chip, the similar of the latest iPod touch. It has a 5-megapixel rare face camera with front-facing 720p camera that able to record HD video in full 1080p. It features a 7.9 inch (1024×768 Pixel) display same as the original iPad and iPad 2. iPad Mini including Apple's new Dock Connector 'Lightning', which was first introduced in iPhone 5.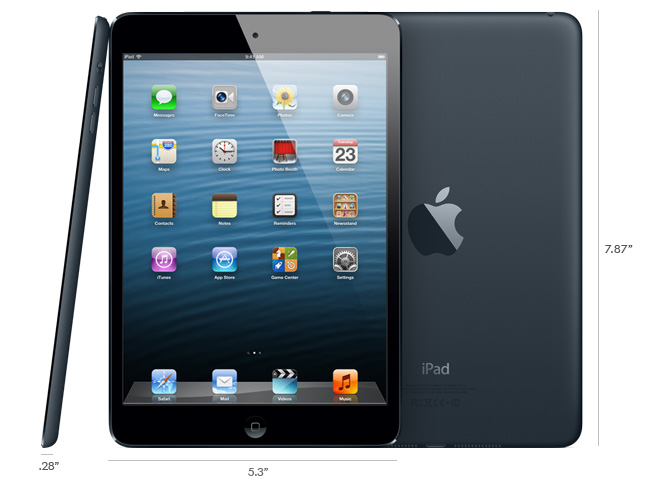 The device will be available in both white and black colors. The device is available in 3 different storage starts at $329 with 16GB capacity WiFi-only version. Prices for 32GB and 64GB models are $429 and $529, respectively.
Ultrafast cellular network connections – including 4G LTE and other wireless networks such as HSPA, HSPA+, and DC-HSDPA are available. For the cellular network versions, prices are $459, $559 and $659 for 16, 32 and 64GB, respectively.
Pre-orders for the iPad mini will start from Oct. 26. Wi-Fi enabled devices will ship on Nov. 2, and the cellular models will come out after two weeks.