Google Buzz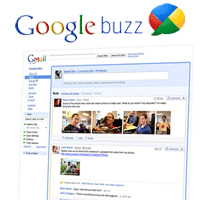 Google held a press event to announce the most "buzzed" topic of the week – Google Buzz. This is Google's new product, which is being compared to social networks like Twitter and Facebook. It is being rolled out across 170 million Gmail accounts and other Google products globally. Google Buzz is a new way to start conversations about the things you find interesting – similar to status updates in Facebook or a tweet on Twitter.
Google Buzz has the five key elements:
Auto Following
Rich, Fast Sharing experience…
Support for public and private sharing….
In-box integration
Just the good stuff…
According to Google's official blog:
Google Buzz is a new way to start conversations about the things you find interesting. It's built right into Gmail, so you don't have to peck out an entirely new set of friends from scratch.

If you think about it, there's always been a big social network underlying Gmail. Buzz brings this network to the surface by automatically setting you up to follow the people you email and chat with the most. We focused on building an easy-to-use sharing experience that richly integrates photos, videos and links, and makes it easy to share publicly or privately (so you don't have to use different tools to share with different audiences). Plus, Buzz integrates tightly with your existing Gmail inbox, so you're sure to see the stuff that matters most as it happens in real time.
How to Use Google Buzz?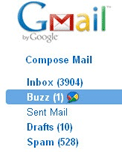 In your Gmail Inbox, you can see a new tab as "Buzz". If you will click on that, you can see a text box with your profile. Write some text which you want to share with other people, that text will appear on the "Buzz" tab of your profile. You may choose to insert pictures or links thru the options provided at the bottom of the text panel. This "Google Buzz" window under Gmail will get updated with the updates from people whom you are following.
Do you think Google Buzz Change the Social Media Game? Share your thoughts.