The Social Website, Twitter is rolling out its own photo sharing feature for all users. Now, your 140-character communication is about to get a whole lot more visual.
The feature, which introduced in early June, allows users to share their tweets with images. Users can see a camera icon on the bottom of the "What's Happening?" tweet box. Users can choose a picture to upload by clicking it, which they can then preview before sending it to the world. Tweets containing photos will be replaced with pic.twitter.com, along with a thumbnail of the uploaded picture.
Twitter's Photo-Sharing feature is partnership with Photobucket, which provides all of the hosting for user-uploaded photos.
Check out the screenshots of Twitter's photo sharing feature.
Twitter Photo-sharing
Step 1:
To post a photo, click on the camera icon.


Step 2:
You will see the following screenshot after the photo's upload. Write tweet and Click on Tweet button.


Step 3:
The following screenshot will show after tweeting the photo.


Step 4:
You will see the following screenshot if you click on image url.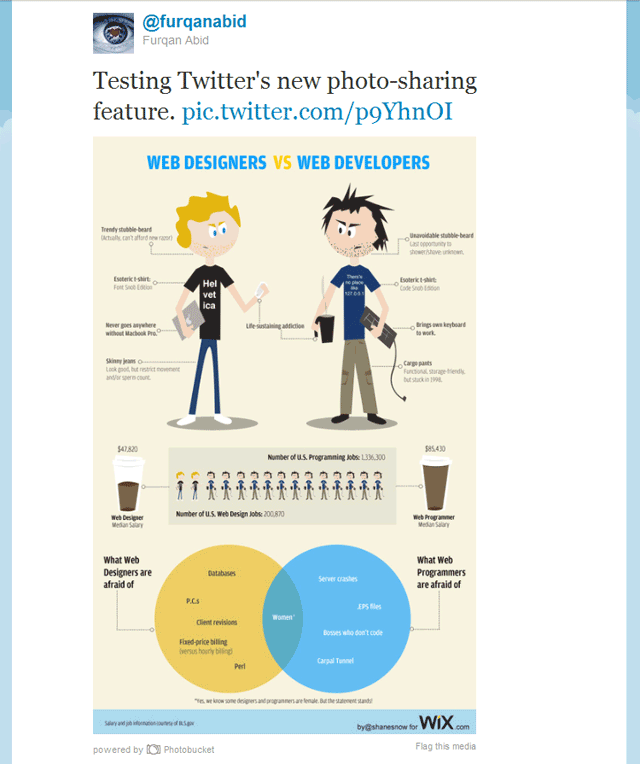 Please let us know what you think about official Twitter photo-sharing service in the comments.