Nokia finally dived into the tablet bandwagon with their first Windows RT 8.1-based tablet, the Nokia Lumia 2520.
Featuring a 10.1-inch (1920 x 1080) HD display, the device gives many resemblances with Microsoft's recently introduced Surface 2. But as is the case with Nokia's other mobile devices, you can find a decent upgrade in terms of camera quality on the company's first Windows tablet.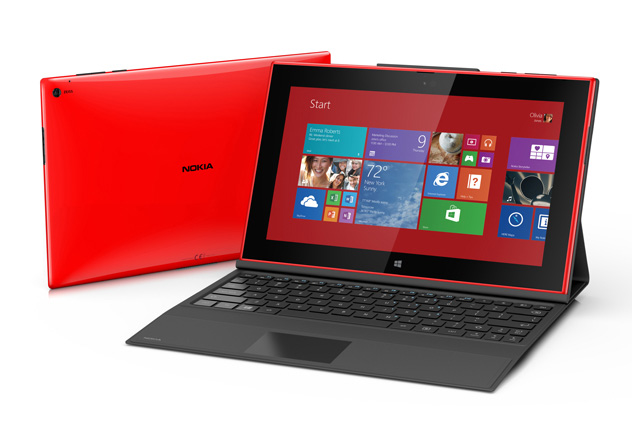 It has a vivid 650 nit screen created out of Gorilla Glass 2, and is designed to give good indoor and outdoor readability.
The Lumia 2520
The tablet shipped with what seems to be a quite powerful is 2.2GHz Quad Core Qualcomm Snapdragon 800. It has 2GB of RAM, 32 GB internal memory and a micro SD card that supports up to 32GB.
The Lumia 2520 comes with a 6.7-megapixel camera with an auto-focus f/1.9 aperture Zeiss lens, and the 2 megapixels front-facing; will use the same Nokia Camera app that was just unveiled with the Lumia 1520. The Company's new Storyteller app plots your photographs on a map, displaying where you were when you took pictures and grouping them correctly — it's one more excellent cause to have always-on connectivity on your device.
The Lumia 2520 Power Keyboard
Nokia is also giving an optional accessory for the Lumia 2520: a Power Keyboard. The $150 keyboard folds over the tablet and smartly resembles a stylish notebook. It also provides a touch pad and two full-sized USB ports, getting things done on the move has never been easier. The keyboard is quite light and portable accessories and delivers an extra 5 hours of battery life.
The Lumia 2520 Battery
The device has an integrated 8000 mAh battery which means it will have a standby up to 25 days over WiFi and 11 hours of video playback. The battery will be charged 80% in one hour.
The Lumia 2520 Connectivity
It offers built-in LTE and WI-FI connectivity for a super-fast experience; you can spend more time out and about.
The Lumia 2520 Availability
Nokia Lumia 2520 will be available in the colors that you can see below – red, white (glossy), Cyan, Black (matte).
The Lumia 2520 will available for $499 in North America, UK, and Finland in the fourth quarter. The company has said the tablet will available in other countries at a later date.