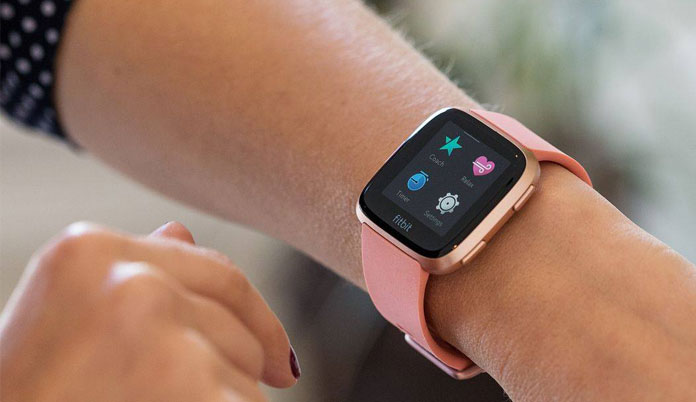 The Fitbit versa is a smartwatch which has been launched by the Fitbit Company. This smartwatch is very much affordable as it comes at a price less than $200. By launching Fitbit versa at a cheaper rate, Fitbit is able to draw a huge number of customers to buy the same. The watch costs only $200. It has a wonderful design with a thin body. This smartwatch is much cheaper than the other smartwatches which are available in the market. Moreover, it is a combination of both a smartwatch as well as a fitness tracker which makes it worth buying.
Features and specifications of Fitbit versa smartwatch
It has an inbuilt app store as well as an inbuilt storage of more than 2.5 GB.
The watch possesses an amazing design and comes at a price cheaper than other smartwatches such as Apple.
The Fitbit versa smartwatch is waterproof and has a long battery life too.
Fitbit versa is one of the best fitness monitoring devices and has various health tracking features including a periods tracker which would be relevant for use by women.
The watch is square shaped which gives it a very unique and stylish look.
It has an LED screen of 1.34-inch density and its pixel density is 317 PPI.
The strap of this smartwatch is made of silicon. Moreover, there is also a special edition of this watch in which the mesh strap has been used for manufacturing it.
This smartwatch is very lightweight and it weighs only 38g.
The watch comes with three easy to use buttons which can be handled manually by the users.
The users can make customized text responses on social media platforms such as Facebook, Whatsapp, Instagram, etc. with the help of this smartwatch.
The watch has Bluetooth adaptability due to which the users can listen to music with the help of Bluetooth speakers.
Pros of Fitbit Versa:
The Fitbit versa smartwatch has a lightweight and sleek design.
The watch comes with a battery life with longevity up to four days.
The watch also consists of various health tracking features, especially for women.
This smartwatch provides a sleep analysis which gives an insight into the daily lives of the users.
Cons of Fitbit Versa:
The app store consisted of this smartwatch is very small as compared to other smartwatches available in the market.
This smartwatch lacks an onboard GPS system.
The notifications provided on this smartwatch are limited to a certain extent.
The internal storage of the watch needs to be handled manually and has no automatic setting features.
The existing users of this watch have revealed that this watch is really convenient to use and has excellent features which are really attractive and easy to use. Thus, the Fitbit versa comes with various new features including an innovative design which would be very attractive to the users. The users can also wear this watch outside the gym as it has a design. Fitbit can be considered as one of the best and affordable smartwatches available currently in the market.
Author Bio:
Adam Thompson is graduate is Computer Systems Engineering. He is technology enthusiast and also a blogger. He writes at a blog called Best WifiRouters2019. Besides this, he is a passionate gamer and spend some weekend time in playing games.