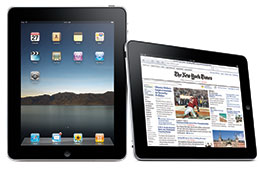 The new version of Apple's operating system for mobile, iOS 4.2, is available for the iPod touch, iPhone and iPad.
The new version brings several new features and especially released for iPad users. The most interesting feature in iOS 4.2 is multitasking that allow users to open several apps at the same time and quickly switch between them.
AirPlay is another new enhancement in iOS that allows you to stream digital media through wireless from your iPhone, iPad, and iPod touch to your Apple TV and AirPlay-enabled speakers.
Some other new features for iPad users are AirPrint, app folders, Game center, unified inbox, dictionary enhancements and more.
Apple claims that more than 125 million users are using iOS and its App Store has more than 300, 000 apps.
The new version is compatible with iPhone 3G and 3GS, iPhone 4, iPad and iPod touch. For more information about iOS 4.2 improvements visit Apple iOS official page.