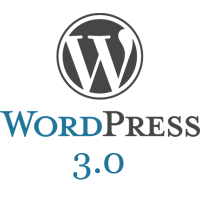 After a long wait WordPress release its newest version WordPress 3.0 Thelonious. WordPress 3.0 is thirteenth major release of WordPress, is  now available for download or your can upgrade from your dashboard.
Over 218 contributors take a part to get ready WordPress 3.0 and they complete there work in half a year.
The Major new features introduce in this release is a brand new WordPress Theme called Twenty Ten, a new API's for theme developers that allow them to customize post types, taxonomies, backgrounds, menus, headers and short links .
The merger of WordPress and WordPress MU (multi-user) is another major update of this release. So, no need to install a separate installation and you can operate multiple blogs from a single installation.
Another feature of this release is bulk updates so blog admin can upgrade up to 15 plugins at a time with a single click.
For more watch WordPress 3.0 Official Video