The Raspberry Pi Foundation announced a next generation of the Pi, the Raspberry Pi 4 Model B,  with three different LPDDR4 RAM variants, 1GB, 2GB, and 4GB.
The new version of Raspberry is a significant upgrade from its predecessor. It features a 64-bit Broadcom BCM2711, 1.5GHz Quad-core ARM Cortex A72 Processor with Up to 4GB RAM. However, the previous model uses 1.2 GHz Quad-core ARM Cortex-A53 chipset.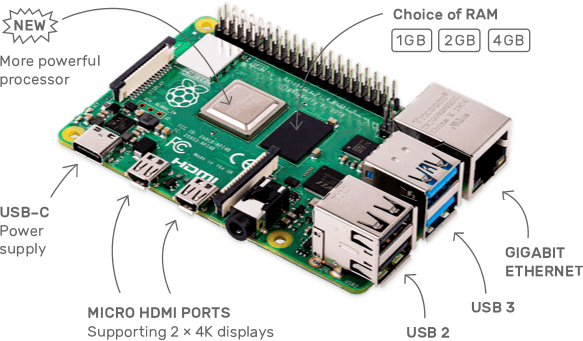 The new Raspberry PI 4 Model B brings several new changes, such as a faster Gigabit Ethernet port, two USB 2.0 (Type-A) and two USB 3.0 (Type-A) ports, a faster GPU, Dual-band 802.11AC Wi-Fi, Bluetooth 5.0, a USB-C power port, and the twice micro HDMI outputs which allow you to plug two 4K displays at 60FPS.
Those enhancements bring you "a complete desktop" experience means that the Raspberry Pi 4 is usable as a budget desktop PC alternative. The new version of the Raspberry Pi operating system is built on Debian 10 to match with the new hardware.
A 40-pin GPIO header carries backward compatibility with old models. In conclusion, all of the ventures and projects built on previous Raspbian hardware will stay compatible with the new one.
The product is launching now available from Authorized Raspberry Pi retailers. The base model still costs $35, while the 2GB and 4GB models available for $45 and $55 respectively. These models will remain in production until at least January 2026.
We suggest purchasing a full kit for $120 to ensure that all of the accessories you have are compatible with your hardware. 
What do you think about this new overhauled model? Let us know in the comments!