The business of home security is looking up to be quite large owing to the present demand of modern nuclear families. This is because, those of you who belong to such families, hardly have the time to stay at home and oversee it. Hence, a need arises for virtual security personnel to take care of your house; one that is both trustworthy and professional. What better way than to appoint a home security system which will be implemented and operated by you?
Protect America Security
One such home security system is Protect America which has been serving more than point four million customers since its inception in 1992. Protect America has such a facility which provides over 2 security sensors, if required. If you go in for a monthly agreement on monitoring solution, you will get a home security feature which is wireless, by GE.  Along with this package comes a maximum of fifteen sensors with no added cost. Other traditionally additional equipments like smoke detectors, security cameras, detectors of glass break, GPS tracking system of vehicles etcetera are also provided by them. You can take your pick from landline phone, cellular phone or broadband internet monitoring connections. Protect America is a wonderful choice if you want to try it out. The cost per month is $19.99 – $42.99.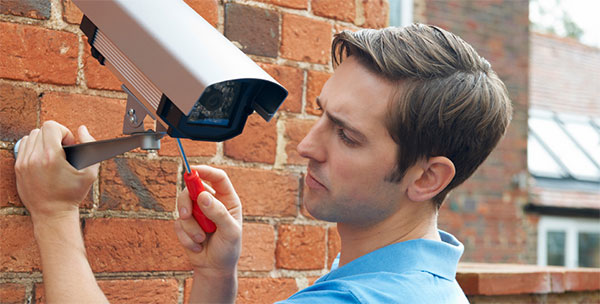 Features of Protect America
Protect America is a National Home Security Company. The advantage of such a company is that, they deliver upon the skill and quality which they promise that is, you will be choosing stability and experience. It provides security from burglary up to a limit of forty zones. The technology is full wireless, which is manufactured by GE. It is an exclusive feature offered by GE. You will be getting multiple codes of access for this system. There is a GPS system too which helps you track your vehicle. The security system is integrated with video camera for your viewing. You will also get an application on a smart phone which comes with cellular monitoring and broadband. It uses 3 best monitoring systems through the US. Thus, it ensures that, your house is always secure. They also offer 3 varieties of monitoring systems according to your budget and needs. Above all, they have been in the business for twenty long years which means that they have a sound customer base along with a lot of experience.
Price Chart and Equipments offered
The price listings per month are as follows – a Copper System will cost you $19.99 while, a Bronze System is priced at $35.99. The Silver, Gold and Platinum Systems on the other hand, are listed as $37.99, $39.99 and $42.99 respectively. Their equipments include not only home security but also, Life Safety, Automotive Security, Smart Connection which can be checked from anywhere and Home Automation.
Protect America Security thus, assumes a big role in the home security business. Owing to its extensive history, it is quite well known and also a trustworthy name. It is no surprise that with all of its security features and good faith, it has attracted such a large base of customers!