Google's Mobile operating system Android has beaten Symbian to become the top Smartphone operating system in the fourth quarter of 2010.
A research firm "Canalys" reports that the Global sales of Android Powered Smartphones were 33.3 Million as compared to Symbian. The total sales of Symbian powered Smartphones were 31 million followed by Apple with 16.2, RIM with 14.6 and Microsoft with 3.1 million Smartphone devices shipped.
The global market of Smartphone grew 89% as compared to fourth quarter of 2009. Android has been adopted by the world's popular cell phone manufacturers such as HTC, Samsung, LG, and Acer, and experiencing great results.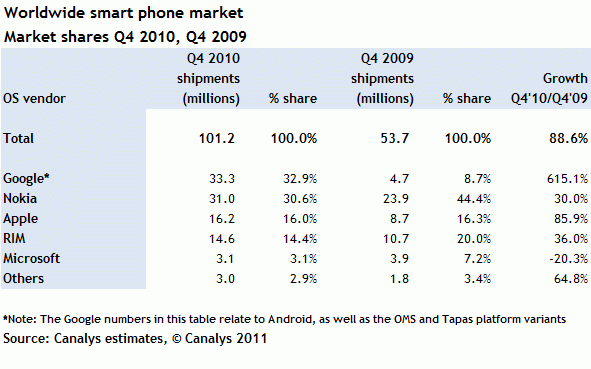 Nokia recently reported relatively weak Smartphone sales, a result of the company's struggles to transform its Symbian platform into a honorable competitor to Google's Android and Apple's iOS.