There is good news for those users who use WordPress every day. WordPress introduced so many new, enhanced and inspiring features in WordPress 3.3 and expected to be released in late November after months of beta testing. Let's have a look what's major improvements coming in WordPress 3.3.
Refined Admin Bar
WordPress introduced a redesigned admin bar that easier to use and much more responsive. The menus now dropdown on hover, saving you more clicks. The appearance menu and search box were removed from Admin bar, and the user menu moved to the right side just like Google's user bar.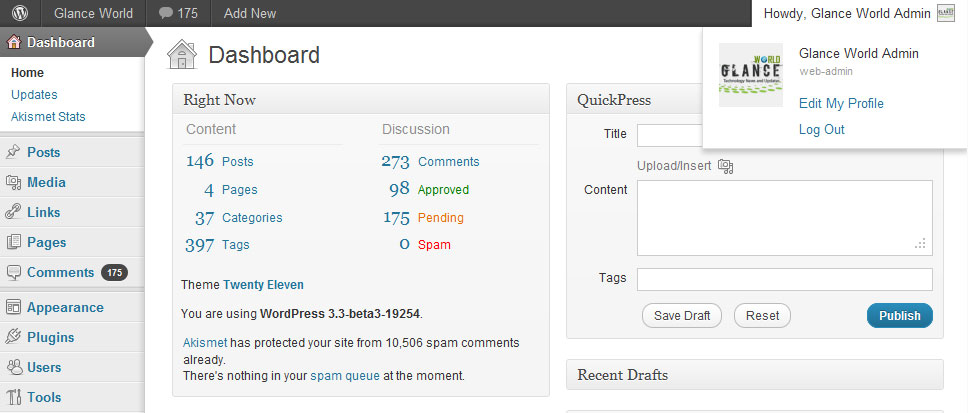 New WordPress Menu
The "W" icon in the redesigned admin bar brings out a new menu with links to the "About WordPress" page. The Credits, Documentation, Feedback and Support Forums links also moved in this menu from their previous position in the footer.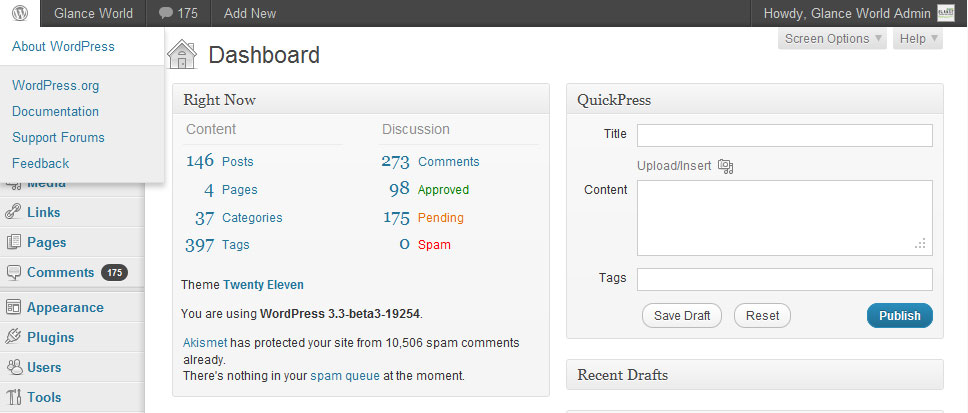 New Fly-out Menu
WordPress new flyout menus save your click when you trying to access their sub menus. We are happy to know that the flyout menu would only display when the menu was collapsed.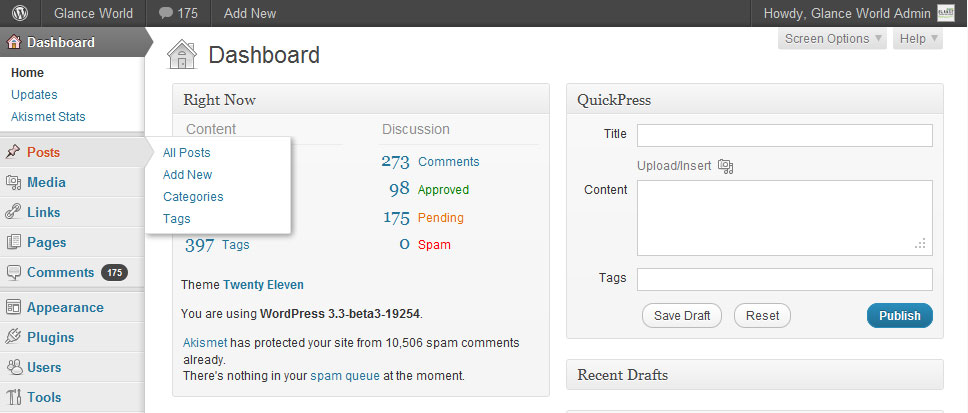 New Media Uploader
New Media uploader is one of the coolest improvements featured in WordPress 3.3 that makes it superb easy and fast. Many bloggers are waiting quite a while for this. Now users can upload their media files by drag and drop stuff from there computer. The media uploader no longer depends on Adobe Flash and now supports Microsoft Silverlight and HTML 5.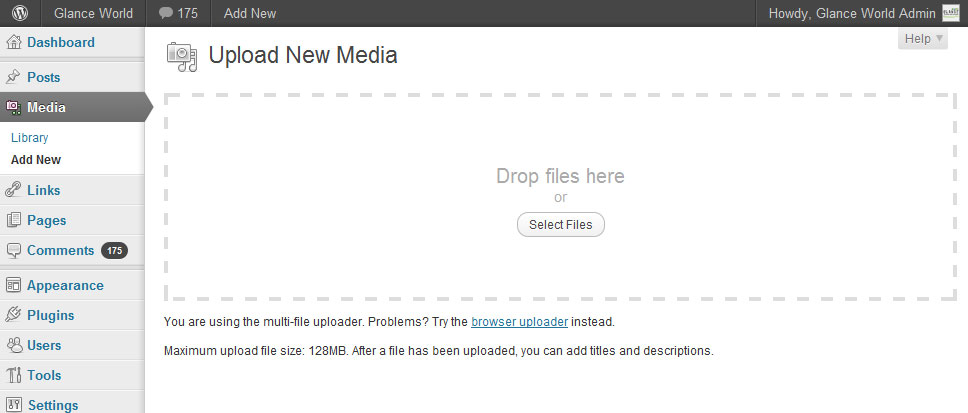 New Feature Tooltips
New Feature Tooltips is another coolest and exciting featured in WordPress 3.3. Now you will be alerted about the new feature introduced by WordPress via popup pointer. It is extensible via actions and filters. So plugin developers can add their own popup pointers to educate users about new the new feature that they introduced in their plugin.

Improved Help Section
WordPress has completely restructured its help area with tabbed navigation and enhanced readability. Developers can tap into this area to add their own support documentation right in the admin, which could be great for giving clients personalized help docs.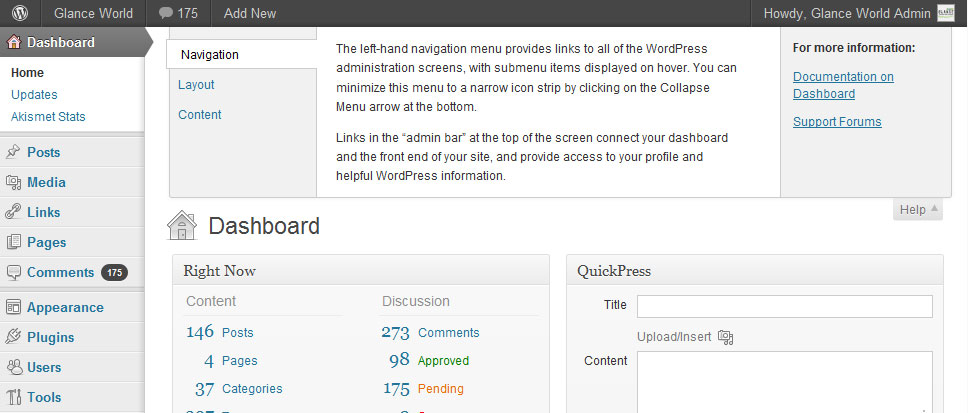 Permalink and Performance Issue
Many bloggers define a custom permalink structure %postname% as it is easy to remember and avoids unwanted permalink structure such as numeric names, and day or month.
So WordPress team decided to add this new permanent permalink structure to help out the bloggers. Now WordPress 3.3 supports all of our favourite permalink structure such as Post name as a separate option.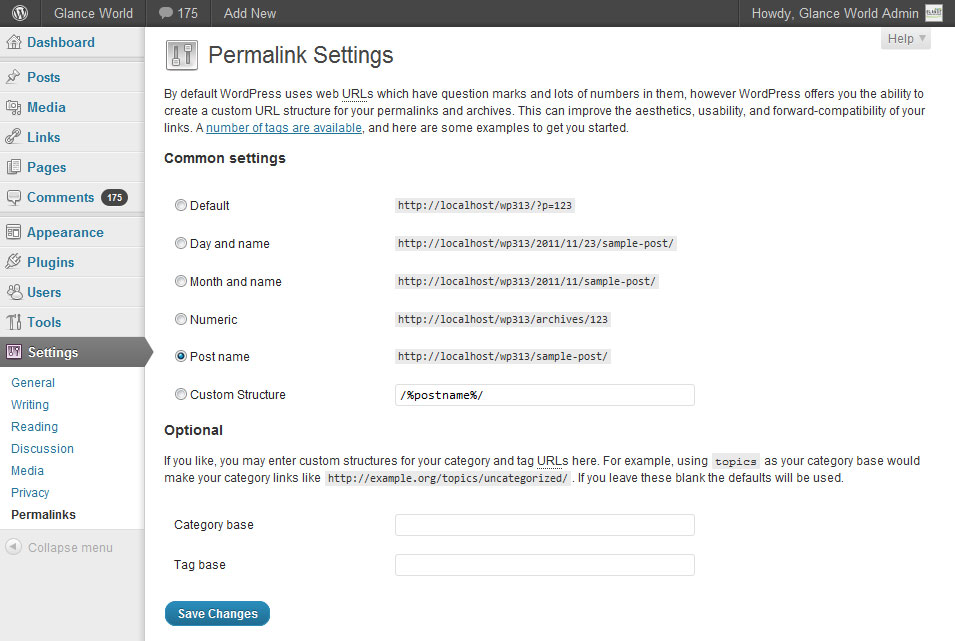 Other Improvements in WordPress 3.3
We have covered the most visible changes in WordPress 3.3 and some under-the-hood enhancements are listed below.
Responsive Layout: A lot of the Responsive Layout has been left and expected in WordPress 3.4. But the left side menu automatically collapsed on the smaller screen in WordPress 3.3.
WordPress Editor API: Now the plugin developers can easily customize the post editor, such as TinyMCE buttons and additional TinyMCE editors.
jQuery Library: WordPress 3.3 is now packaged with updated jQuery v1.7 and full jQuery UI v 1.8.16 toolset.
What about you? What are you excited to see in WordPress 3.3? Let us know in Commets