WordPress 3.1 has been released for about a month now and is last major release of WordPress. WordPress developers have already started to develop the next version of WordPress; WordPress 3.2.
Mark Jaquith, the lead developer at WordPress writes in a blog post "WordPress 3.2 contain various new and inspiring updates which will make WordPress more lighter and faster than ever before."
WordPress introduced so many new and exciting featured throughout the past. So let's check out what is new and exciting in WordPress 3.2.
Goodbye PHP4 and MySQL4 – Welcome to new PHP and MySQL
WordPress 3.2 is about to drop the support for PHP4 and MYSQL4 and require PHP 5.2.4+ and MySQL 5. Make sure your hosting provider is using PHP5 and MYSQL5 technology, if you want to upgrade to WordPress 3.2.
New Admin Layout
We can finally see another major update of the design in WordPress 3.2. Throughout the past, WordPress user interface has construct structure. WordPress developers are dropping support for all outdated technologies to make things faster, lighter and calming. So watch out some of the screenshot below:
New Dashboard View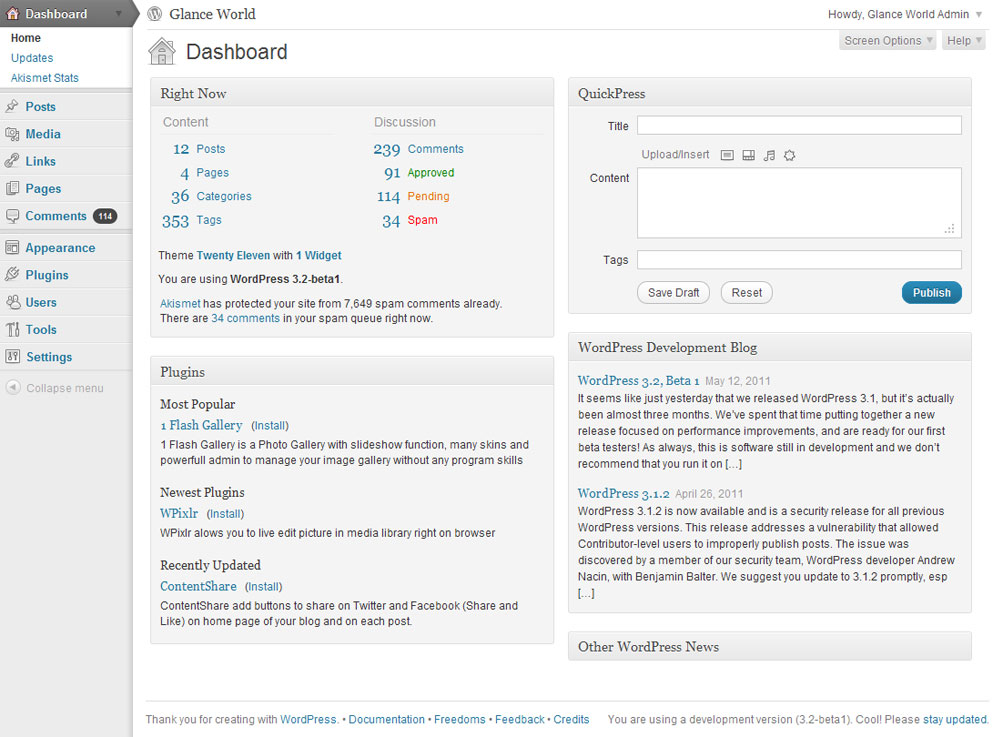 New Themes View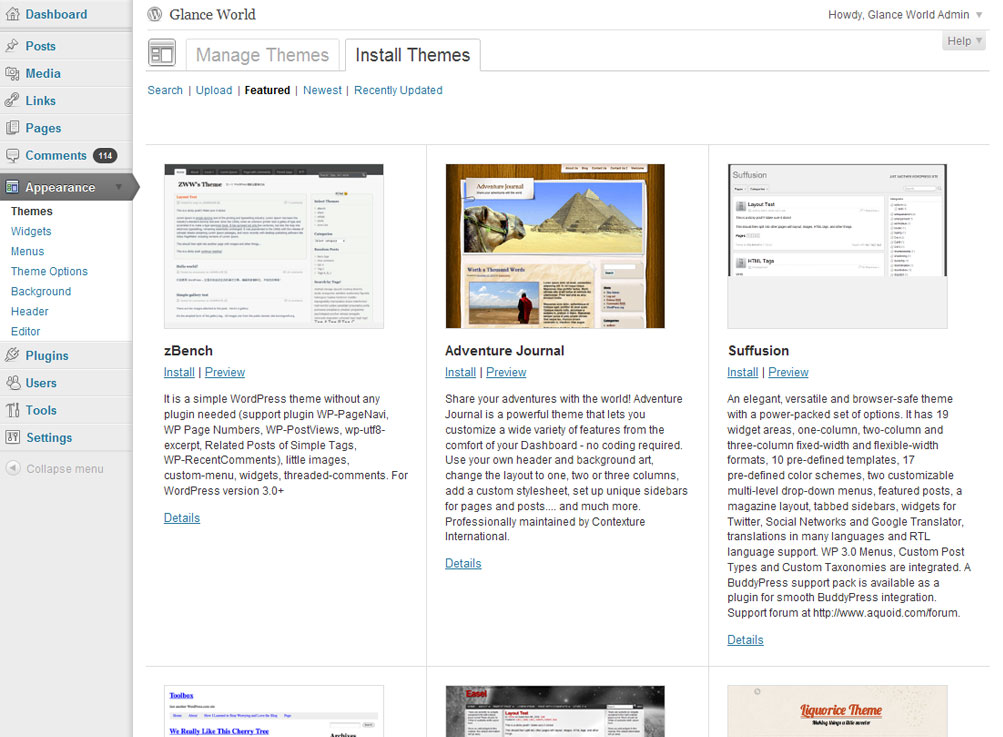 New Menu View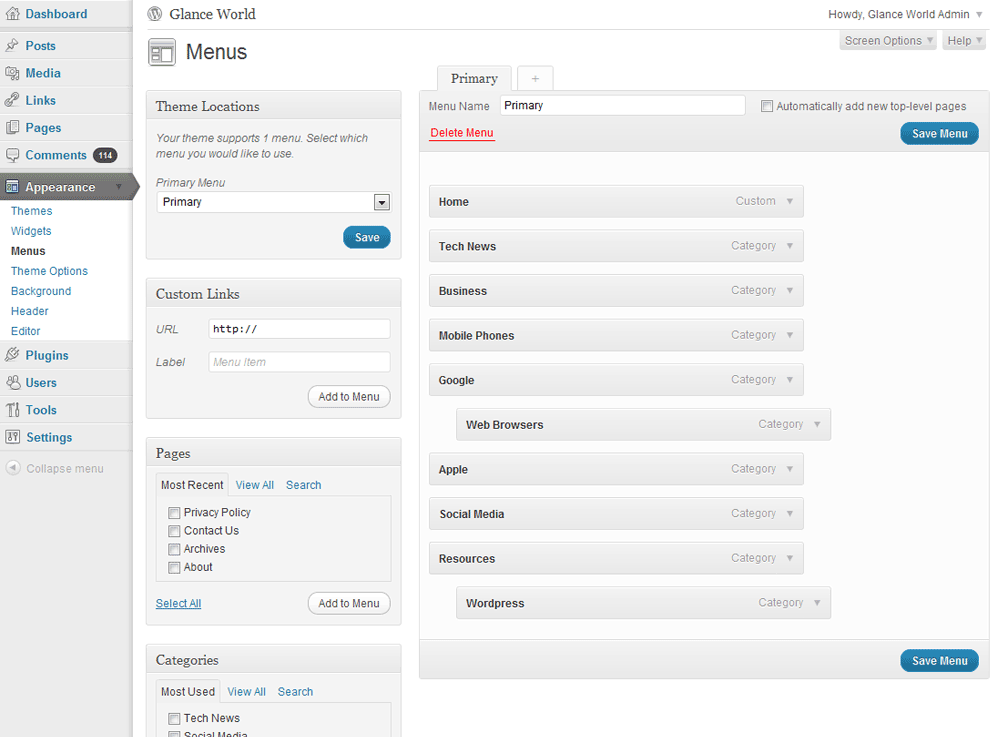 New Widget View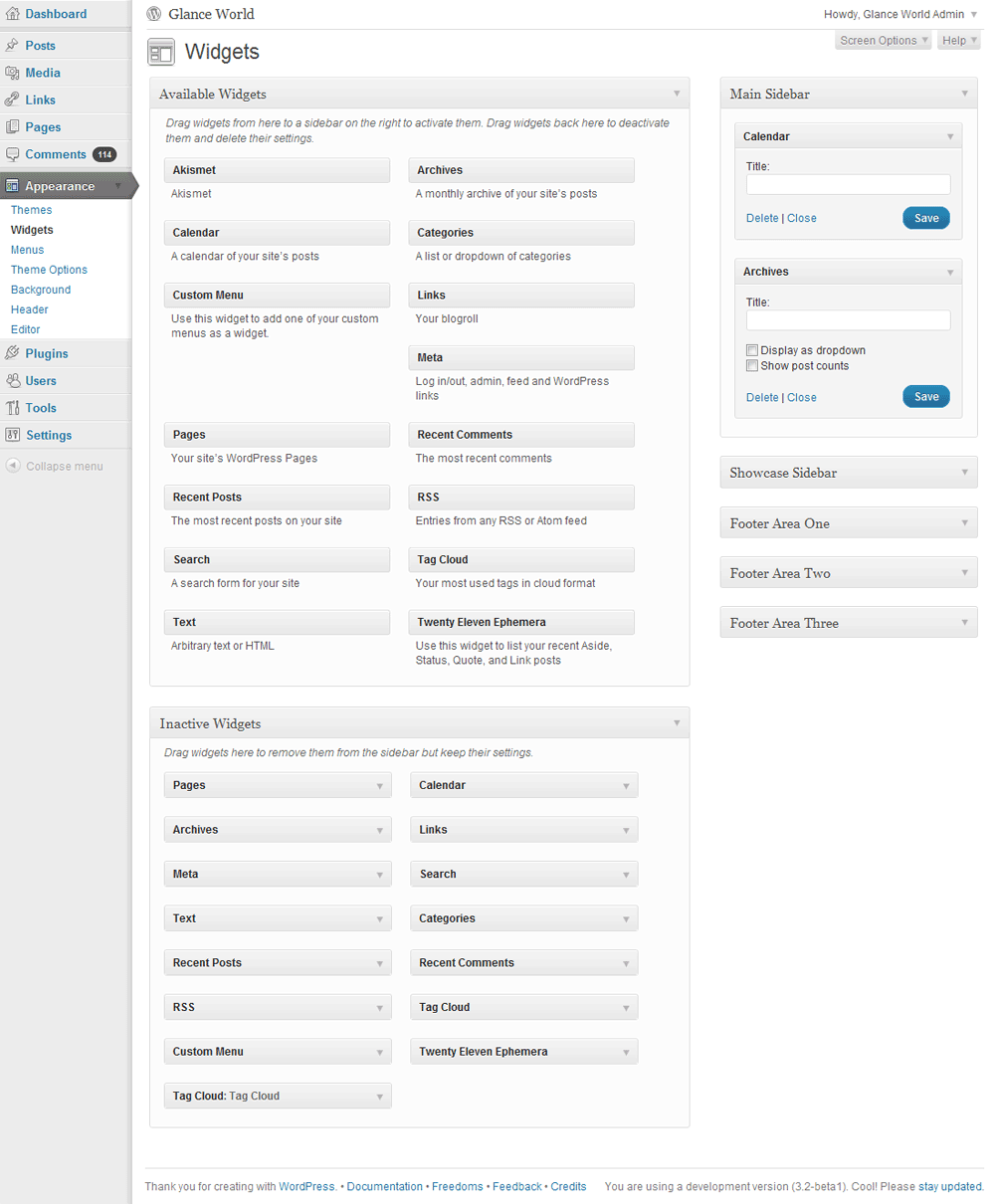 New Plugins View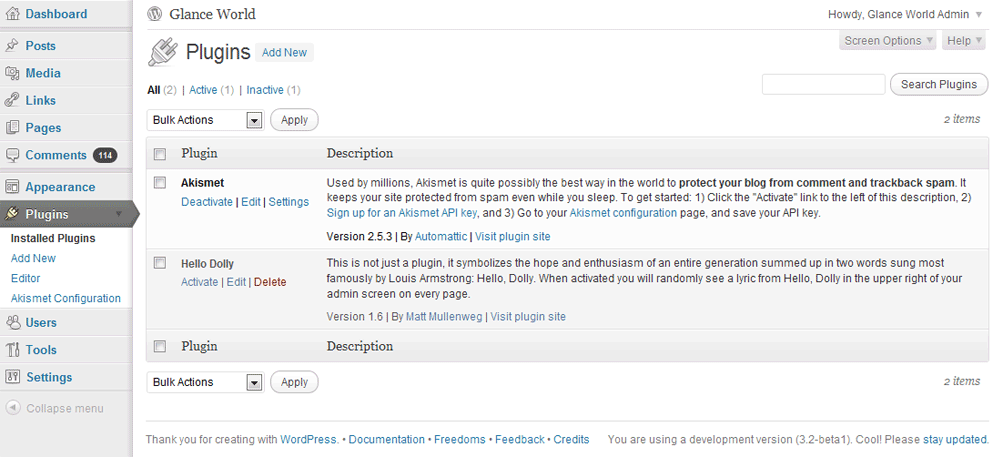 New Post View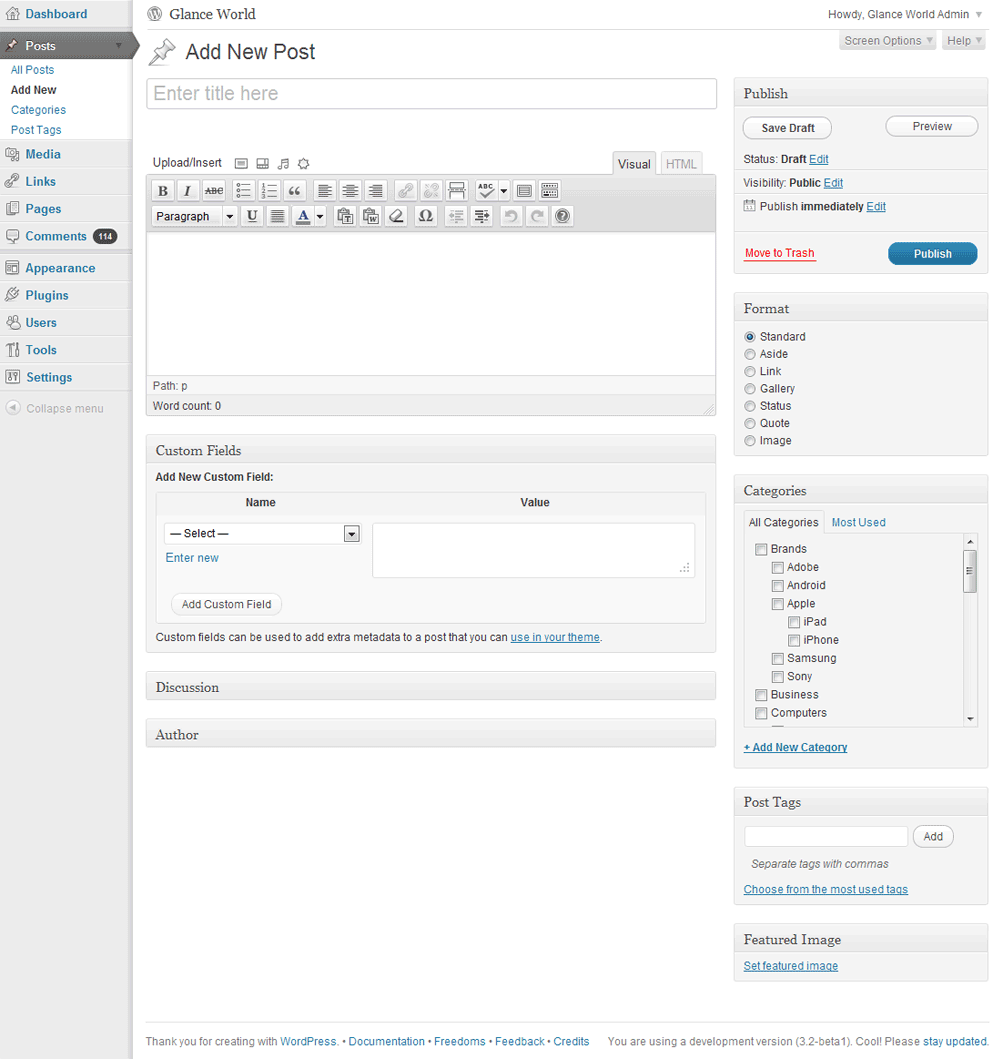 Distraction Free Writing
Distraction Free Writing is another major update to the WordPress 3.2 writing interface for quite some time. The writing interface of WordPress 3.1 was cleaned up a bit by hiding Meta Box (Custom Fields, Author, etc) by default. So you can just focus on the content by using Distraction Free Writing feature. The aim to introduce Distraction Free Writing is to make the writing experience faster, calming and lightweight.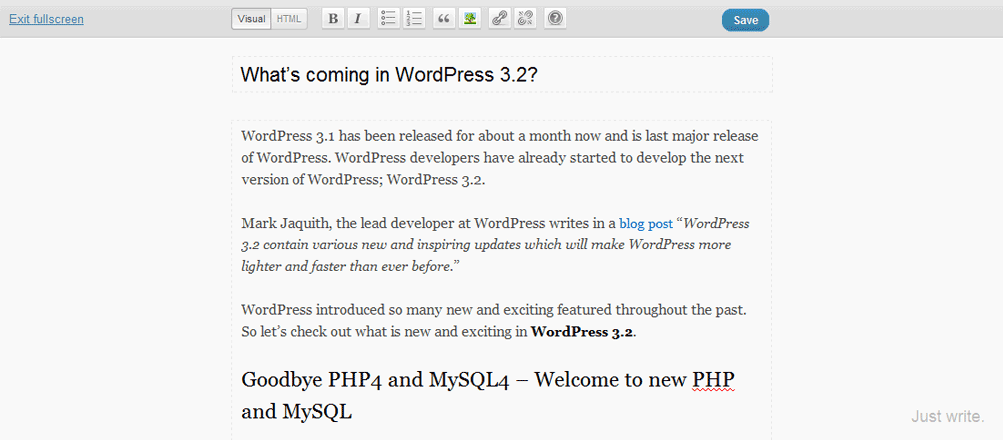 Speed Improvements
WordPress can halt a website, if you are using a large database. WordPress still support some of the older technologies in the CORE files which will be dropped In WordPress 3.2 to make it load Faster!
Nacin is working on a chunk of codes that make the admin menu load faster and make the FTP improvement that can upgrades faster by expansion in PHP.
Auto Upgrading Improvements
Improved Upgrading feature is another core feature of WordPress 3.2. The developers are focusing more on upgrading only the changed (updated) files instead of entire package.
New Theme – Twenty Eleven
Have you remember about a new theme "Twenty Ten" that is introduced with WordPress 3.0? The developers are planning to release a new theme known as Twenty Eleven.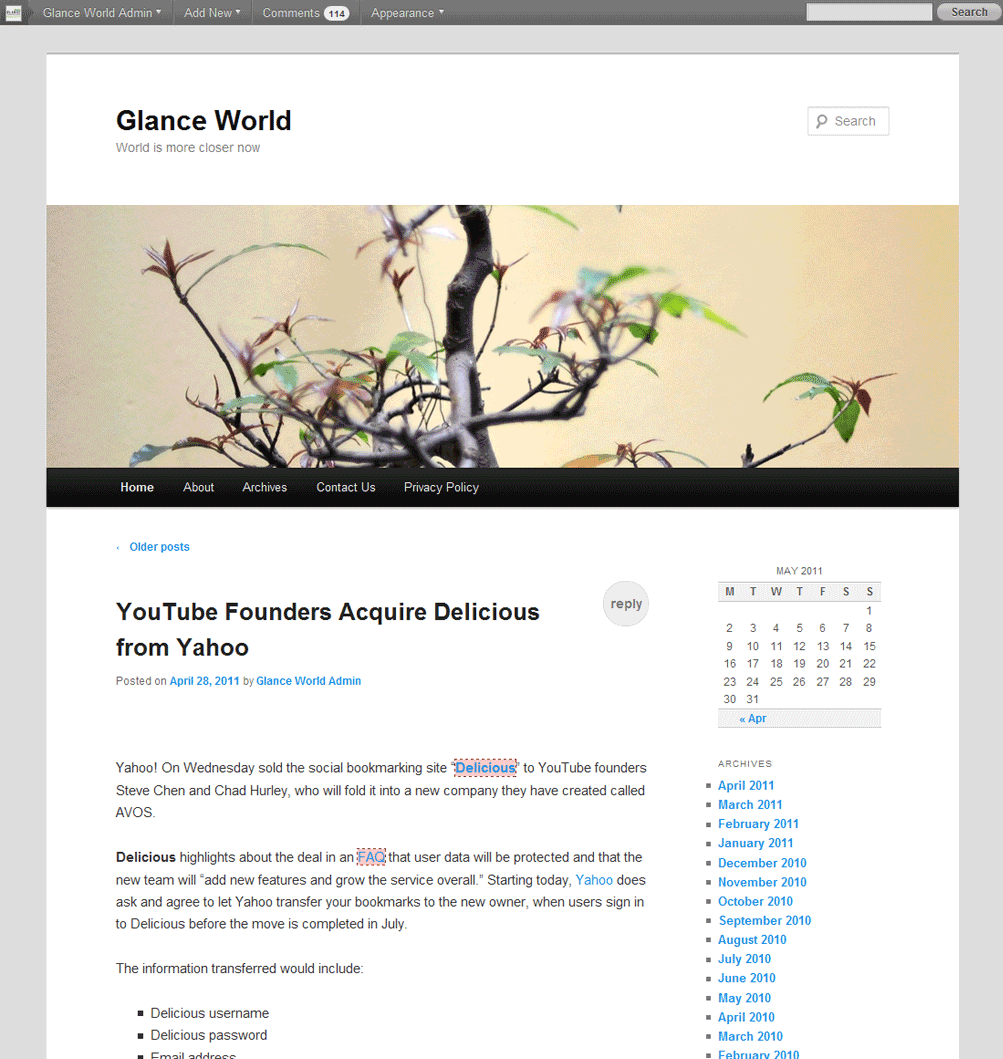 Probably, the WordPress developer has an aim to release a new default theme every year! Twenty Eleven comes with two color schemes; Light and Dark as well as a built-in Theme Options page that allows you to pick color scheme, link color and layout.
By default this theme has no sidebar but you can enable it from the Theme Options page. Showcase Template that has a built-in slider and shows the featured posts is another feature in Twenty Eleven.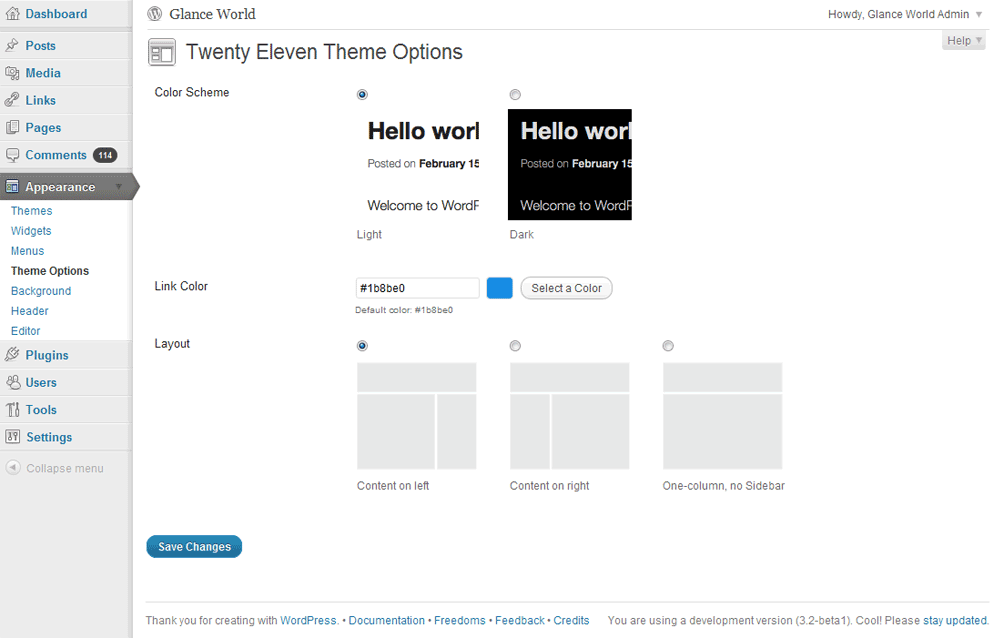 Twenty Eleven Theme's header image area now allows you to show random images for each page. Many users demand to see that feature. You can follow along with the progress of Twenty Eleven at the WordPress trac.
It has not been revealed yet when WordPress 3.2 will be available but it is expected to come out on June 30, 2011. If you want to download WordPress 3.1 RC2, Just click on the following button.
Do let us know what you think about the upcoming WordPress version in the comment area.
Note: The screenshot you are seeing in this post are new and may be they will be improved, changed or upgrade by the time of full release.