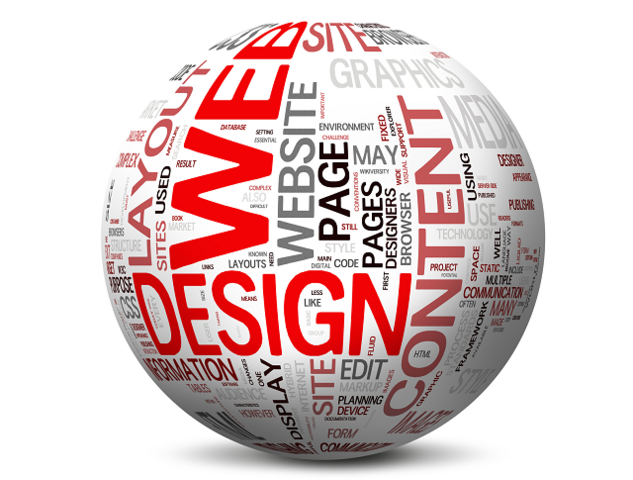 Before jumping into web design, take the time to plan. After all, your website is the foundation of your online marketing machine, and starting without a plan can set you up for a confused, and confusing, website you'll find yourself having to fix later. Here, we'll discuss some of the basic concepts of web design.
Use a Template
Unless someone at your startup has previous experience with web design, don't try to create your website from scratch. You can find free templates online which allowing you to shape your ideal design vision. WordPress, in particular, can make creating and maintaining your website quick and easy. You can even download new themes and integrate features without knowing much about web development.
Keep it clean, simple and straightforward: simple designs are cheaper and are faster to create. They're also memorable, timeless and show up better on mobile devices. Don't try to wow your visitors with a complex and crowded design: this may be distracting and turn people away. Cluttered and complicated designs will drag down the speed of your website, which will also cause visitors to leave. These days, if you want to make an effective website, you often find that less can be more.
Make it Easily Accessible
The main purpose of a website is to match your business with the needs of your target markets. It is essential to ensure that your visitors can access your site flawlessly. Navigation should be easy and intuitive, content should be easy to consume, and any features you implement need to work properly, of course. If your site isn't functional, it won't rank well, and any traffic you get is almost sure to bounce.
Focus on the navigation. Your business is a new one so the website is going to play a major role in spreading the word about it. The more people who visit the website, and the more user-friendly it is, the better this is accomplished. Keep this in mind when implementing CTA (call-to-action) buttons — clear and concise messages tell your visitors exactly what the button does.
Make the site readable. The site needs to be readable, and the colors, fonts, and graphics you choose will all have a part to play in this. Be careful that any contrasting colors and tones you use work to make your content clearer and draw focus to your services, marketing message, and CTAs.
Create a logo. Ideally, you already have one for your brand, but this is a necessity for your online presence as well. Remember, while designing the logo, you should also keep in mind that it should also help to speed up brand recall. Ensure that the colors, font, and image match your business and the markets it intends to reach. A unifying theme and color scheme for CTA buttons, images, typefaces and other visual elements will help support, and be supported by, the use of your logo on your website.
Be careful with fonts. Typography is an essential piece that can either lend credibility to your message or potentially lose it entirely in the eyes of your audience. Whatever fonts you pick should be clear and legible and, in fact, to keep the page simple, you should not use more than two fonts.
Use colors sparingly. Colors are yet another crucial aspect of web design. If used appropriately, they can help create a riveting and successful brand value. But just as with other graphical elements, if they are used poorly, it can drive people away. Stick to a limited and functional palate rather than splashing various hues about willy-nilly.
Use graphics wisely. Words can make things boring while graphics can make your message simple and intriguing. Images, videos, and animations offer a great way to entice viewers while offering them an intuitive interface that clearly dictates the goal of the website. Take some time to look for images that can help viewers understand and connect emotionally with your message.
Test your website. There are a number of tools and services out there that can help you do this on a more technical level, but at the very least, test the website yourself using whatever computers and mobile devices are available to you. Not only will this help you ensure a functional website, it forces you to adopt the perspective of your customers — a critical piece of perspective for any business.
Search Engine Optimization
Your website won't do you much good if it's sitting out in cyberspace without visitors. You need a strong focus on Search Engine Optimization, or SEO, in your design to draw viewers to your site. SEO requires time and resources, but this is another piece of the foundation that your website creates for your digital marketing. Place keywords strategically in the main content of your site but make sure your content reads well. The goal shouldn't be to manipulate the search engines and, in fact, trying to do so will cost you. The goal is to make sure that the search engines see your website and understand what it's content means — just the same as it is with the visitors you wish to attract to it.
Even when it's done, it's not done. You will need to update your site on a regular basis, adding fresh content and periodically updating design elements. Ideally, your content should entertain, engage and educate visitors. Outstanding content makes your company more relatable and builds a strong relationship between you and your reader. A blog is an excellent tool for adding fresh and engaging content to your website, and can help establish the thought leadership of your brand. Consistently adding this content will show both your audience and the search engines the value of your website.
Likewise, even when you catch up on today's methods, tomorrow's online environment will almost certainly be different. For more information on web design and to keep up with the latest tips and trends, visit Kreativa, an online marketing community where individuals share tips and insights into a variety of marketing and design topics. You might just find the next great asset or idea to help take your business to the next level.