Natural calamities are uncalled for. It may hail one day and the next day lightening possibly will strike a tree down. In any case, the roof of your house has to endure heavy hitting. Sun radiations, rains and temperature changes constantly reduce its life. Wooden or asphalt, regardless of the roofing material, every roof requires care and repair. From tracking down the damage to repairing, this article reveals major steps to guide you through this process.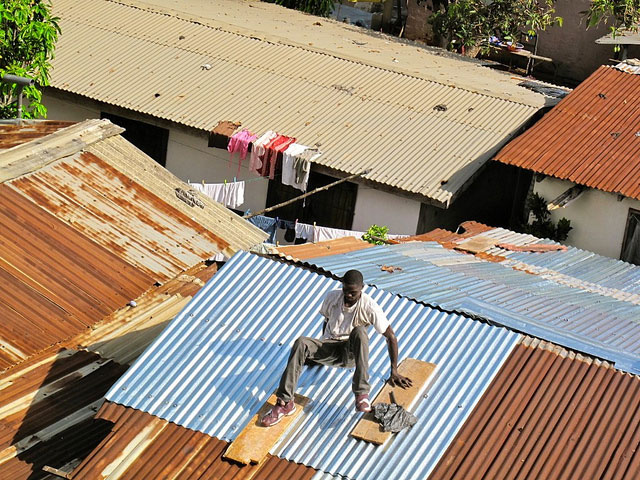 Safety Precautions
Before you get on the roof, be prepared. Take heavy duty gloves and protective eyewear with you. Most importantly, wear gripping boots as roof tops are tilted and slippery. Keep the ladder secured all the time you're up on the roof. Moreover, make sure there is always someone standing down to assist you; working alone on the roof without supervision is a dangerous idea. Proceed with patience because roof repairing demands vigilance. It's better to be safe than sorry.
Detect the Damage
The most probable defect can be of roof shingles. They respond to temperature changes; contraction and expansion leave them with cracks and holes over the time. Old shingles tend to curl from edges and that make them prone to water leakages. So, you need to inspect the shingles and look if any crack or displacement has prevailed.
Prefer Fixing Over Replacing Where You Can
If you spot a crack, it's preferable to fix it using an adhesive material. The reason is that shingles are hard to remove as they overlap on each other. To replace the defective shingle, you'll have to remove the faultless one above it too. The curved edges can also be mended the same way by pressing the edges down and applying the roofing sealant on all sides. There are many ways to treat leak holes. Go for the simplest option first and move on to the next.
Get Ready New Shingles
If roof shingles are all crumpled out, it's a sign that they can't be worked with and need to be replaced. It's easier to pluck the shingles out in winters because they become brittle. Get ready the new shingles before you take out the old ones. You can also insert roof flashing for weather proofing and leakage problems before mounting the new shingles.
Keep in Check to Avoid Future Damages
After you're done repairing the roof defects, make a maintenance schedule. Inspect it every month to ensure a damage free roof. A neglected roof can lead to severe damages that could be hard to repair. In such a case, you should hire professional roofing services.