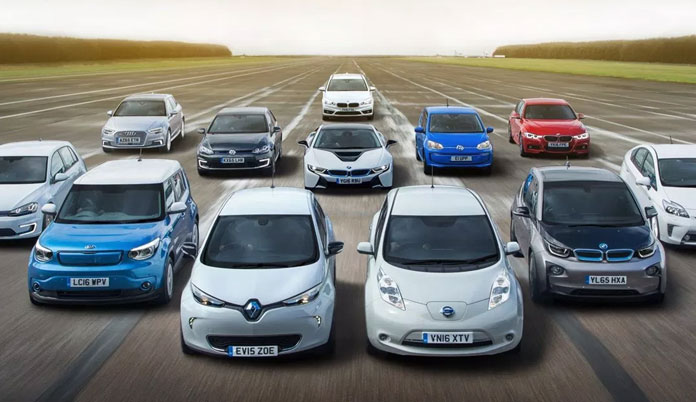 Okay, so you are ready to do your part to reduce fossil fuel usage and you are considering an EV (Electric Vehicle). Several manufacturers are marketing EV's, but which one is right for you? Everyone has different driving styles and needs. How far can you go on a 100% EV? How reliable are they? Are there any savings? Some of these questions will be answered below to help you determine if this technology is ready for you. There are three types of EV's available. But, are they ready for prime time? You decide.
Plug-in Hybrids
Dedicated EV is an electric only vehicle. There are four models available or expected out by 2012. Nissan Leaf is a four-door five-passenger hatchback pure battery electric vehicle. It has an expected range of 100 miles between charges, which Nissan says is sufficient for 90% of Americans. It takes eight hours or more to fully charge with a 220-volt outlet and longer with a 110-volt outlet. The starting price is estimated at $33,600. The warranty on the battery and related hardware are eight years or 100,000 miles. The estimated cost to replace the battery is $18,000. Expected availability is December 2010. Mini E Cooper is a two-door two-passenger pure battery electric vehicle.
It has an expected range of 156 miles under ideal conditions. Most drivers get about 100 miles between charges. It takes approximately 3 hours to charge with a 240 volt 48 Amp outlet or 4.5 hours with a 32-amp outlet. If using a 110 volt 12 amp outlet it takes approximately 26.5 hours to charge. This is a two-passenger vehicle because the battery takes up the entire back seat. The regenerative braking takes a little getting used to, the system kicks in as soon as the driver lifts his foot off the accelerator pedal. This causes the vehicle to begin slowing before the brake pedal is applied. BMW is leasing these vehicles as part of a special program. They are developing a replacement based on the BMW 1 Series, which is due out in 2011.
Ford Focus EV is a four-door sedan based on the redesigned 2012 Focus. The prototypes have a 23-kilowatt-hour lithium-ion battery pack with an estimated range of 100 miles. Charge time is approximately 6 hours on a 220-volt charger, extend your tesla 3 car life roadster first started selling in 2008. It has a price tag of $111,000, it is a two-seater sports car. It is based on the Lotus Elise with a fiberglass body. This car is a rocket, it can accelerate from zero to 60 in under four seconds. It has a range of 245 miles with a massive 53-kilowatt-hour battery pack.
Full charge takes 3.5 hours on a proprietary 240-Volt 70 amp charger. It has a very stiff and jarring ride with a very basic interior. It is awkward climbing into the cockpit because of the tall wide sill. The loud battery-cooling fans emit a constant roar behind you. Tesla is developing a lower cost $50,000+ model S sedan expected to be released in 2012.
Extended EV Electric with the Gasoline Engine
The Chevrolet Volt is the only model that falls within this category. It is a four-door four-passenger sedan. The Volt does not have a rear bench seat like most vehicles because of the T shaped battery pack. It has a range of 40 miles on electric power. GM states this is sufficient for 75% of commuters. Once the battery level drops below a certain level, a small gas engine kicks in to provide enough electric power to run the electric motor. The overall range is 300 miles before filling the gas tank or charging the batteries.
GM says the Volt can run with never being plugged in. However, it will impact the fuel economy. Charge time for the Volt is four hours on 220 volt or eight to 10 hours on 110-volt outlets. The Volt charges faster than the dedicated electric vehicles because it has a smaller battery. The battery warranty for the Volt is the same as the Nissan Leaf. The warranty on the battery and related hardware are eight years or 100,000 miles. The starting price for the Volt is $41,000. The replacement cost of the Lithium-ion battery is approximately $8000, which is $10,000 less than the Leaf. The electric motor produces 149 horsepower and 273 pound-feet of torque. Those torque numbers are about the same as a V-6 engine.
Plug-in Hybrids
There are no manufacturers producing plug-in Hybrids as of this writing. However, there are some aftermarket companies producing aftermarket add-on batteries for the Toyota Prius. The extra cost of these add-on batteries is approximately $11,000. This added battery boosts the gas mileage by approximately 50% for the first 35 miles. Once the battery is depleted, the Prius reverts back to its regular hybrid operation at which time the fuel economy drops slightly below that of a standard Prius because of the added battery weight. Toyota is field-testing the plug-in Prius for commercial use. There are no expected models for retail customers until 2012.